Iron Shield Security sells and installs a full suite of state-of-the-art alarm system detection equipment.  All of our alarm system products and services include features such as total automation & remote operation of your Lights, Thermostats, Door Locks, Garage Door Openers, Water Sensors, and many more.  Please contact our office to schedule a thorough assessment of your Home or Business.
Color Touch Screen Interface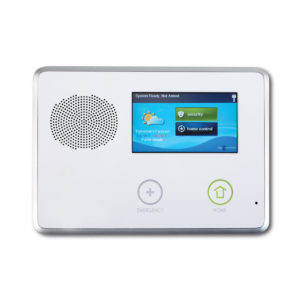 Intuitive, user-friendly touch screen interface is found on the 2GIG System.  It comes with a built in GSM (cellular) radio, the most reliable communication option available in the industry. No more concern with cut phone lines or the need for residential land lines altogether.
These systems come with built-in Z-Wave RF Protocol Technology, allowing customers to control lighting, HVAC, and other Z-Wave appliances in the home right from the panel, web-enabled phone, or the internet.
Glass Break Detectors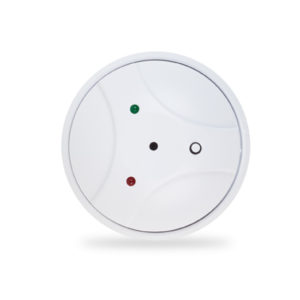 These devices have built in advanced microprocessor based glass break sensors as well as omnidirectional microphones which give them the ability to detect the sound and frequency of glass being broken or shattered.  Glass Break Detectors are typically ceiling or wall mounted and work best when placed within 25-30 feet of the designated area that is to be protected.  These devices are pet immune and come in both hardwired or wireless versions.
Motion Sensor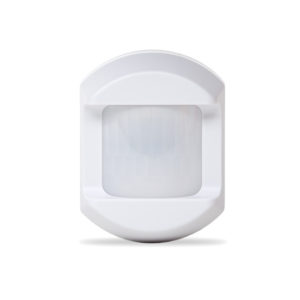 Simply put, these electronic devices have the ability to sense movement, body heat and can cover areas of up to 300 feet depending on lens type.  These detectors can be used in private residences, businesses, warehouses and even in outdoor applications. Motion detectors also come with pet immunity lenses that range from 30-120 pounds.
Video Door Bell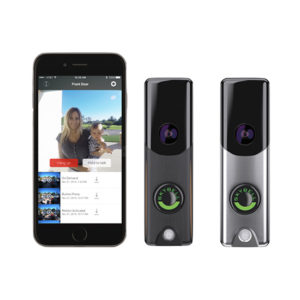 The Video Doorbell Camera has become one of our best-selling security & convenience products.  Below are many of the features it offers:
HD Video with 5x Optical Zoom

Motion Sensor – Alerts you even if visitor does not press the button

Live Monitoring – Just open the app and watch live video

Free Video Recording – view recording video clips at your convenience

Multiple Users – Each user can receive instant alerts via their smart phone / tablet

2 Way Audio – Means that you can speak with & listen to your visitor

Full night vision – for added security at night

Take instant snapshots for later viewing

Extremely rugged design – can operate at temperatures between -40- and 140-degrees F
Remote Access Door Lock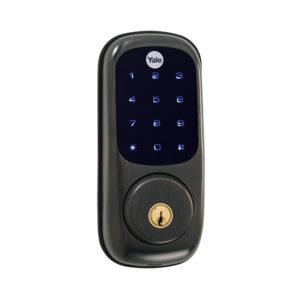 Touchscreen illuminated Keypad Door Lock with key override.  Unlock your deadbolt remotely via your smart phone or tablet.  The Lock automatically secures itself even if you forget to lock the door.
Carbon Monoxide Detector
The Wireless Carbon Monoxide Alarm is a 3V battery powered wireless detector intended for use with wireless alarm systems. The detector consists of an electrochemical carbon monoxide sensor assembly coupled to a wireless transmitter. The Wireless Carbon Monoxide Alarm communicates with the Control Panel and can send alarm, tamper and battery condition messages to the system's receiver.
Wireless Key Fobs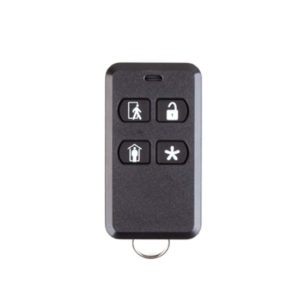 These devices can be used to arm / disarm your security system from a distance, trigger panic alarms, turn on lights, open powered gates and garage door openers.  Key fobs are water resistant and also have a built in delay feature to greatly reduce false alarms.
Wireless Panic Button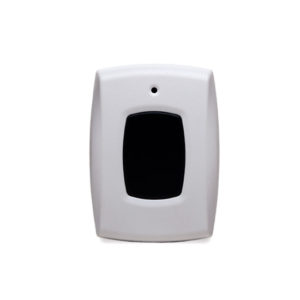 These devices can be placed in areas that may require the need for either an audible or inaudible alarm signal that will notify the Alarm Monitoring Center / The Appropriate Responding Authorities.